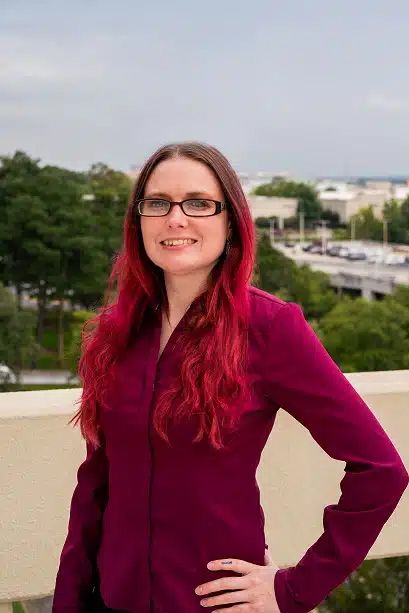 The Practice
Ashton assists our attorneys with a variety of practice areas and is the point-of-contact for Bankruptcy and Civil matters. She helps keep track of the schedules for our team and manages our office duties.
The Personal
Ashton is a proud Arkansas native, having lived all throughout the State, she loves helping her fellow Arkansans.
She has lived in both larger cities and small hometowns, such as Houston, Arkansas (Population 184). With her restaurant background, she is known for being able to get along with people from all walks of life. She is also a self-proclaimed weather enthusiast.
In her spare time, she loves spending time with her family, their cats, and reading.
The Professional
Ashton received her associate's degree and certificates in Paralegal Technology from the University of Arkansas - Pulaski Technical College. Ashton also has an associate's degree in Computer Information Systems from the University of Arkansas Community College at Morrilton.
Get To Know Ashton
Ashton is a paralegal at AR Law Partners' Little Rock office where she has worked since 2021. Ashton focuses on bankruptcy and probate. She lives in North Little Rock with her son and three cats. She was born and raised in Arkansas. She has lived all over the state including towns such as Little Rock, Cabot, Jacksonville, Walnut Ridge, Jonesboro, Houston, Perryville, Morrilton, and Conway. If it's in Arkansas, she's probably been there.
Ashton has been a Skywarn Certified Storm Spotter since 2017.
Ashton also has an IT background, holding an Associate Degree in Computer Information Systems. As a student she assisted with implementing the North Little Rock School District's first wireless network.
These client testimonials are actual comments. We strive to represent our clients with prompt, knowledgeable and caring service. We hope to receive similar positive comments from your experience with our law firm.
Terry Silva Sr

Our attorney Katie Freeman was very honest, helpful, and very informative about our adoption. She took very good care of us and was always prepared for the next step. I highly recommend this Law Firm for all your family needs. Thank you so much for your help.

Lindsey Stines

My husband and I were both represented by dustin duke. He was extremely understanding and helped us with our issue within days! We had less than a week to prepare for court and Dustin won the case and was able to get my attorneys fees paid for from the other party! Would HIGHLY recommend arlaw partners they genuinely care about their clients and are always available for any questions you may have!

Stephen Kaufmann

They were very courteous and always responded promptly to any questions I had. I will be recommending them to everyone!

Karnilla Schingoethe

I am so grateful to have found AR law partners. Kayla Marple and Betsy Hickman helped me above and beyond with my divorce. I had a particularly difficult judge, but a fairly straightforward case. They took all of the stress off of me and got it done for a very fair price. I 100% recommend them!

Lynise Yates

professional and help me every step of the way. I could never show say thank you enough for what she has done for my family. God bless you Katie!

John Beck

Katie is an awesome attorney. I would recommend anyone to her. She was with me the whole time with my case and is very knowledgeable and professional. If you have any questions she will get you the answer. Her and her team are very trustworthy.

Conrad Henson

experience is hard to beat. If your in need of a attorney especially for family law, you must give her your first chance! You won't regret it 😊

Wes (Wes)

Jon was awesome! Always fast to return calls and emails. Walked me through every step. Couldn't have made the process any easier for me. Definitely would recommend him.

Britney Queen

I HIGHLY recommend Jonathan at ARlaw Partners. He made the whole experience, from beginning to end, very smooth and easy. He responds quickly and is very professional. I've had a great experience in the past with Katie also. This is an amazing group!

Shandi Turknett

Katie helped me through a difficult time and fought hard with me the whole way. Any time I needed her, she was there for me. She made our custody case easy and guided me to make the best decisions for my children. I cannot thank her enough!