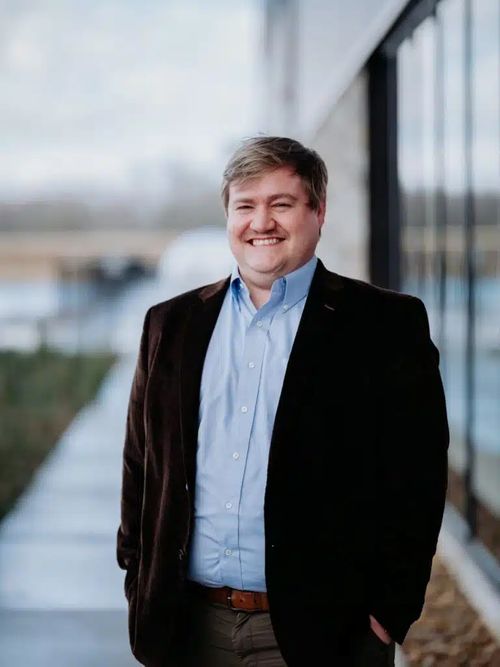 The Practice
Born, raised, and educated entirely in the Natural State, Charlie's motivation and drive for Arkansan families is evident in his practice, which he has dedicated to helping individuals and the ones they love most in issues involving family including divorce, child custody and modification, DHS, guardianship, prenuptial agreements, and everything in between. Charlie is known as a zealous advocate for his clients in front of any judge. However, knowing how sensitive family matters can be, he works diligently to assess the needs of individual clients and develop a strategy that achieves their desired outcomes.
The Personal
Charlie returned to his hometown of Little Rock after graduating from law school in Fayetteville in 2014. He lives there with his wife, their dog, Harriet, and cat, Madonna. He is avid Arkansas Razorback and St. Louis Blues fan (he played hockey as a kid for the Little Rock Lightning. Outside of spending time with his family and friends, Charlie loves playing disc golf and experimenting in the kitchen. He previously served as the second ever Commissioner of Bottle Toss, a local, legendary, Little Rock game.
The Professional
Charlie first knew that a career in the courtroom was in the works after winning back-to-back Arkansas state debate championships representing Little Rock Central High School. He then attended the University of Arkansas for his undergraduate education as a double-major in History and German. In law school, also at the University of Arkansas, he won the Ben J. Altheimer Moot Court Competition and received overall best speaker.
After law school, Charlie clerked for the Honorable Waymond Brown at the Arkansas Court of Appeals, then spent several years arguing dependency neglect cases for DHS child protective services. Since he has entered private practice, he has argued in courts across Arkansas in a variety of practice areas including complex appeals, civil litigation, any and all family law issues, guardianship, and cases involving his previous employer - the Department of Human Services.
Get To Know Charlie
Charlie was born and raised right in Little Rock.
Charlie is the resident kitchen master of ARlaw – anything he puts together in the kitchen is sure to be a hit!
Charlie is an award-winning speaker and advocate – all the way back to his high school days where he won back to back state championships in debate. Charlie went on to win the Ben J. Altheimer Moot Court competition, as well as Best Speaker, in law school – not to mention dozens of trials in the years since.
These client testimonials are actual comments. We strive to represent our clients with prompt, knowledgeable and caring service. We hope to receive similar positive comments from your experience with our law firm.
Terry Silva Sr

Our attorney Katie Freeman was very honest, helpful, and very informative about our adoption. She took very good care of us and was always prepared for the next step. I highly recommend this Law Firm for all your family needs. Thank you so much for your help.

Lindsey Stines

My husband and I were both represented by dustin duke. He was extremely understanding and helped us with our issue within days! We had less than a week to prepare for court and Dustin won the case and was able to get my attorneys fees paid for from the other party! Would HIGHLY recommend arlaw partners they genuinely care about their clients and are always available for any questions you may have!

Stephen Kaufmann

They were very courteous and always responded promptly to any questions I had. I will be recommending them to everyone!

Karnilla Schingoethe

I am so grateful to have found AR law partners. Kayla Marple and Betsy Hickman helped me above and beyond with my divorce. I had a particularly difficult judge, but a fairly straightforward case. They took all of the stress off of me and got it done for a very fair price. I 100% recommend them!

Lynise Yates

professional and help me every step of the way. I could never show say thank you enough for what she has done for my family. God bless you Katie!

John Beck

Katie is an awesome attorney. I would recommend anyone to her. She was with me the whole time with my case and is very knowledgeable and professional. If you have any questions she will get you the answer. Her and her team are very trustworthy.

Conrad Henson

experience is hard to beat. If your in need of a attorney especially for family law, you must give her your first chance! You won't regret it 😊

Wes (Wes)

Jon was awesome! Always fast to return calls and emails. Walked me through every step. Couldn't have made the process any easier for me. Definitely would recommend him.

Britney Queen

I HIGHLY recommend Jonathan at ARlaw Partners. He made the whole experience, from beginning to end, very smooth and easy. He responds quickly and is very professional. I've had a great experience in the past with Katie also. This is an amazing group!

Shandi Turknett

Katie helped me through a difficult time and fought hard with me the whole way. Any time I needed her, she was there for me. She made our custody case easy and guided me to make the best decisions for my children. I cannot thank her enough!