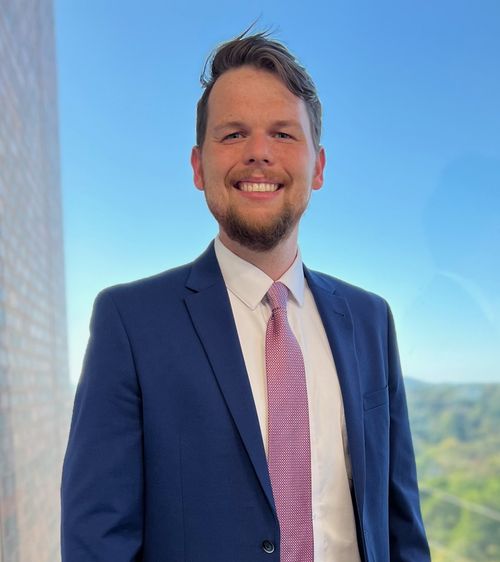 Grant Wise
Grant Wise is an attorney based out of the Little Rock office dedicated to helping his clients with all of their family law needs, including divorce, adoption, and child custody and visitation issues. He recognizes how difficult family matters can be and is passionate about helping his clients resolve their problems and achieve their goals so they can get back to living the lives they want and deserve.
Grant Wise was born and raised in Paragould, Arkansas, and grew up helping out on his family's small cattle farm. He called Jonesboro home for six years before moving to Little Rock in 2022.
Grant obtained his undergraduate degree from Arkansas State University in Jonesboro, earning his bachelor's degree in Political Science with a minor in Spanish. He is a graduate of the Cecil C. Humphreys School of Law in Memphis, Tennessee. While in law school, he worked with a local legal aid organization on cases concerning refugees and asylees, particularly those involving children. This work led to him receiving the Memphis Bar Association's Access to Justice Award in 2019.
After law school, Grant spent time in private practice before becoming a parent's rights attorney, defending parents against DHS child protective services in dependency neglect cases. He is licensed to practice in all Arkansas state courts and the U.S. District Court for the Eastern and Western Districts of Arkansas.
In his spare time, Grant enjoys spending time outdoors during his daily runs or hiking any one of the beautiful trails around Central Arkansas. He is also an avid reader and is learning to play the guitar. He loves to travel and hopes to one day visit all sixty-three US National Parks.
These client testimonials are actual comments. We strive to represent our clients with prompt, knowledgeable and caring service. We hope to receive similar positive comments from your experience with our law firm.
Terry Silva Sr

Our attorney Katie Freeman was very honest, helpful, and very informative about our adoption. She took very good care of us and was always prepared for the next step. I highly recommend this Law Firm for all your family needs. Thank you so much for your help.

Lindsey Stines

My husband and I were both represented by dustin duke. He was extremely understanding and helped us with our issue within days! We had less than a week to prepare for court and Dustin won the case and was able to get my attorneys fees paid for from the other party! Would HIGHLY recommend arlaw partners they genuinely care about their clients and are always available for any questions you may have!

Stephen Kaufmann

They were very courteous and always responded promptly to any questions I had. I will be recommending them to everyone!

Karnilla Schingoethe

I am so grateful to have found AR law partners. Kayla Marple and Betsy Hickman helped me above and beyond with my divorce. I had a particularly difficult judge, but a fairly straightforward case. They took all of the stress off of me and got it done for a very fair price. I 100% recommend them!

Lynise Yates

professional and help me every step of the way. I could never show say thank you enough for what she has done for my family. God bless you Katie!

John Beck

Katie is an awesome attorney. I would recommend anyone to her. She was with me the whole time with my case and is very knowledgeable and professional. If you have any questions she will get you the answer. Her and her team are very trustworthy.

Conrad Henson

experience is hard to beat. If your in need of a attorney especially for family law, you must give her your first chance! You won't regret it 😊

Wes (Wes)

Jon was awesome! Always fast to return calls and emails. Walked me through every step. Couldn't have made the process any easier for me. Definitely would recommend him.

Britney Queen

I HIGHLY recommend Jonathan at ARlaw Partners. He made the whole experience, from beginning to end, very smooth and easy. He responds quickly and is very professional. I've had a great experience in the past with Katie also. This is an amazing group!

Shandi Turknett

Katie helped me through a difficult time and fought hard with me the whole way. Any time I needed her, she was there for me. She made our custody case easy and guided me to make the best decisions for my children. I cannot thank her enough!